http://twitter.com/#!/CarmReyn/status/292049045957009409
When we saw the following photo of a man openly carrying a rifle while shopping at a J.C. Penney in Riverdale, Utah, we were as shocked as anyone. Who still shops at J.C. Penney?
Woman snaps photos of man shopping at JCPenny in Riverdale with a rifle on his back. twitter.com/fox13now/statu…
— FOX 13 NOW (@fox13now) January 17, 2013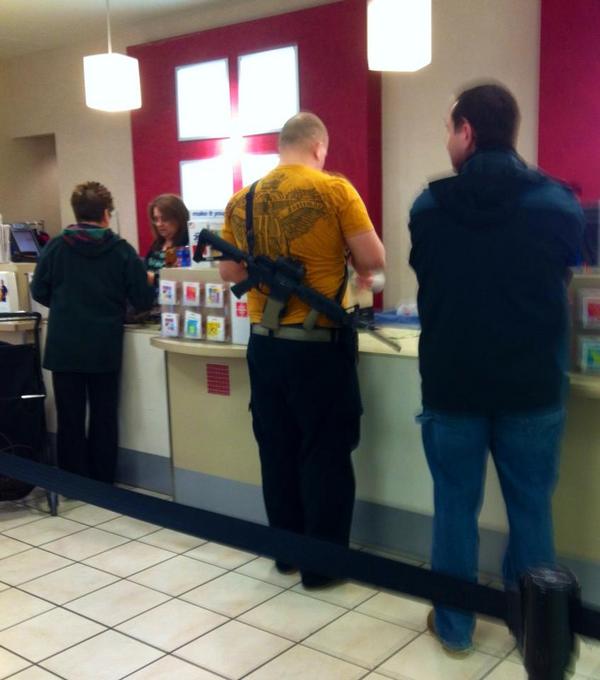 Cindy Yorgason snapped the photo, which is making the rounds of social media. The Salt Lake Tribune reports that the man pictured is 22-year-old Joseph Kelley, who said he was simply trying to demonstrate that guns are safe in the hands of law-abiding citizens.
According to Kelley, the rifle was an unloaded AR-15 and the handgun was a loaded Glock 19C. He said he has a concealed carry permit, is a former member of the military and contacted police dispatch before leaving his home to tell them about his plans. Kelley also said he was told that he was "well within his rights" and that bystanders' reactions were positive.
"I felt no negative vibes from anyone," Kelley said. "I think it went rather surprisingly well."
@jcpenney I have NO problem with this: sltrib.com/sltrib/news/55… — As a matter of fact I would applaud it.
— jgobble (@jgobble) January 17, 2013
Kelley might not have felt negative vibes in person, but there were plenty to go around on Twitter.
Dear Utah right wing nut that shopped @jcpenney with his AR-15 rifle:
The statement you made is "I'm a douche bag."
bit.ly/XhM8N8
— Mike Christian (@Mike_Christian) January 17, 2013
Photos of man shopping with rifle at Utah JCPenney go viral. Statement of stupidity? shar.es/4S6L1 via @sharethis
— Benjamin Tateoka (@btateoka) January 17, 2013
Welcome to Redneck Country, #Sundance Festival-goers!"Photos of man shopping with rifle at Utah JCPenney go viral" shar.es/4Sltq
— Ryan Daley (@Ripvanryan) January 17, 2013
This is not what is meant by "responsible gun ownership." fb.me/1wW4eOcQ9
— Edman (@iamtheedman) January 17, 2013
@fox13now damn is his dick that small
— Andrew Goodwin (@andytgoodwin7) January 17, 2013
@fox13now While legal,this is a really dumb thing to do.Incredibly intimidating. I'd take my family and leave.This is NOT normal.
— WendyLouWho (@IntoRainbowz) January 17, 2013
@fox13now This is all about attention. It's a very scary image.How do I know he's a "good guy"?I think he has mental issues.
— WendyLouWho (@IntoRainbowz) January 17, 2013
Well, one of President Obama's 23 executive actions signed yesterday was to "launch a national dialogue led by Secretaries Sebelius and Duncan on mental health." Is simply carrying a legal, registered weapon in public a sign of "mental issues"? Or is it time for a national conversation on "gun phobia"?