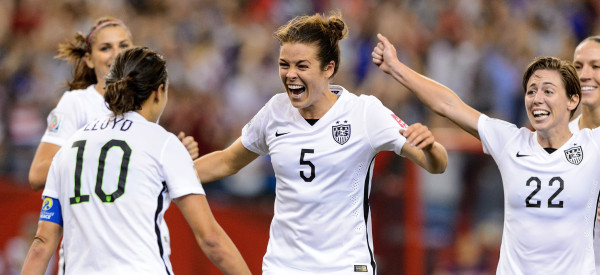 After a dramatic 2-0 victory over Germany, the U.S. Women's National Team is headed to the FIFA Women's World Cup final.
Seriously, though, did you guys catch that game? Because it was insane. The top two nations facing off in the semifinal did not disappoint.
While the No. 2-ranked U.S. dominated most of the match, a scary moment came in the 59th minute when defender Julie Johnston was handed a yellow card and No. 1-ranked Germany was given a penalty kick. However, German striker Celia Sasic, sent the ball wide, leaving the score remaining at 0-0.
It didn't take long after that for the U.S. to finally capitalize as midfielder Carli Lloyd netted the team's first goal off a penalty kick in the 69th minute.
The U.S. will face the winner of Japan and England in the final on July 5th.
Read the whole story